Tourists talk endlessly about Rome, Florence and Venice but Milan is cenrtainly intriguing. The heart of Milan is bounded by the Duomo (the main cathedral) on one side and the Castello Sforzesco on the other, and a pedestrian "mall street" called the Via Dante connects them.
Start out by climbing to the top of the Duomo …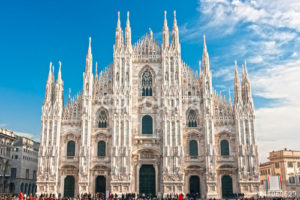 …the best view in Milan and on a clear day , you can see the Alps. Exiting the Duomo (on your right) is the world's first shopping mall – The Galleria Vittorio Emanuele -worth a quick stroll through. Straight across the Duomo plaza (Piazza del Duomo , in italian) in front of the church is a famous gelateria.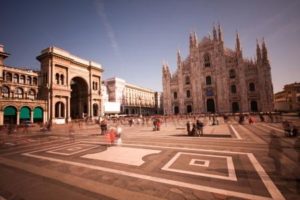 With the Duomo at your back,nearby to the left is the Pinacoteca Ambrosiana,one of the world's great art museums,but much more intimate than the Louvre or the Uffizi -it occupies an old palazzo. There are paintings there by Titian, Raphael, Tintoretto and Leonardo.
The Sforzesco Castle itself is a gret things to see there are the Egyptian mummies and the unfinished modernist Pietà by Michelangelo.
Unlike the Vatican, generally no crowds.
Facing the castle, head left and then right up the via Santa Maria to number 11 wich is the Cafè – Pasticceria Marchesi, a landmark coffee house and chocolate shop and bakery.
Basically you are halfway to the Santa Maria delle Grazie church , home of  "Il Cenacolo " – "The Last Supper" .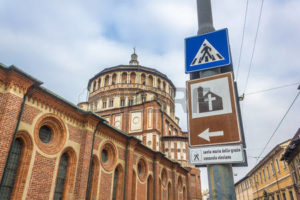 Make a reservation WELL in advance by phone ( I suggest NOT  by internet ) call +39 0289421146 and hit "2" to get an English-speaking reservation agent.
If you forgot to do this ahead of your visit, you can sign up for a day tour with local company that includes a visit to "The Last Supper".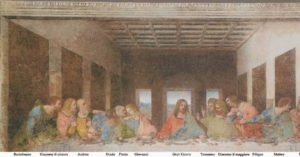 Spend some time walking along the Via Monte Napoleone, the world Centre of fashion. Caffè Marchesihas also opened an outpost here.
In the evening , hang out in the "Navigli" ( Canal ) District in southwestern Milan, which is always hopping. You can get a drink anywhere, but try wine and appetizer at Al Pont de Ferr at 55 Ripa di Porta Ticinese. Then have a homestyle (and much less expensive) dinner near the Castle Sforzesco at Da Rita e Antonio at Via Giacomo Puccini 2.
Enjoy it !!!